The Envato Market plugin can install and update WordPress themes and plugins purchased from ThemeForest & CodeCanyon by integrating with the Envato Market API using a secure OAuth personal token. Once your themes & plugins are installed WordPress will periodically check for updates, so keeping your items up to date is as simple as a few clicks.
You can add a global token to connect all your items from your account, and/or connect directly with a specific item using a single-use token & item ID. When the global token and single-use token are set for the same item, it will be used to communicate with the API.
Installation
The plugin can be installed from a ZIP file via the WordPress Dashboard.
Download the ZIP file from here.
Login to your WordPress Dashboard
Go to Plugins → Add New
Click "Upload Plugin" at the top
Upload the envato-market.zip file
Once installed, click "Activate Plugin"
Visit the new "Envato Market" menu item and connect using Personal Token
Personal Token
Envato Market plugin needs a personal token to access the products you own on your Envato account. You can Create Personal Token using your Envato access information. After creating it you can put it in 'token' field in Envato market plugin's settings tab.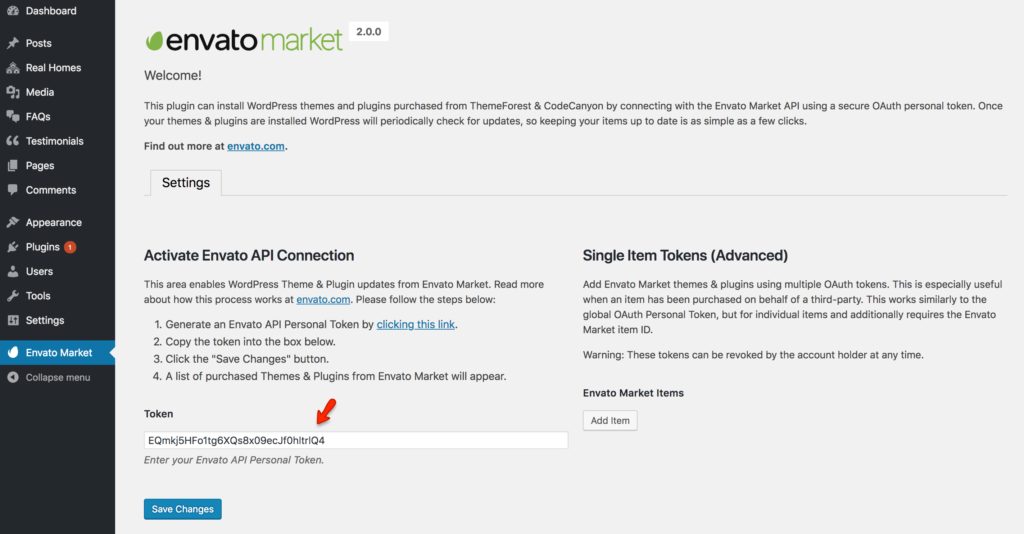 For adding single item instead of the whole account you still need a token code. You also need to put product id which can be seen at the end of every ThemeForest andCodeCanyon items detail page's URL. Check out the screenshot given below.

Always Use a Child Theme
Updating your themes shouldn't affect any customizations to your website if you're using a child theme.